#ADRF23: A Glimpse into the World of AI Networks of Excellence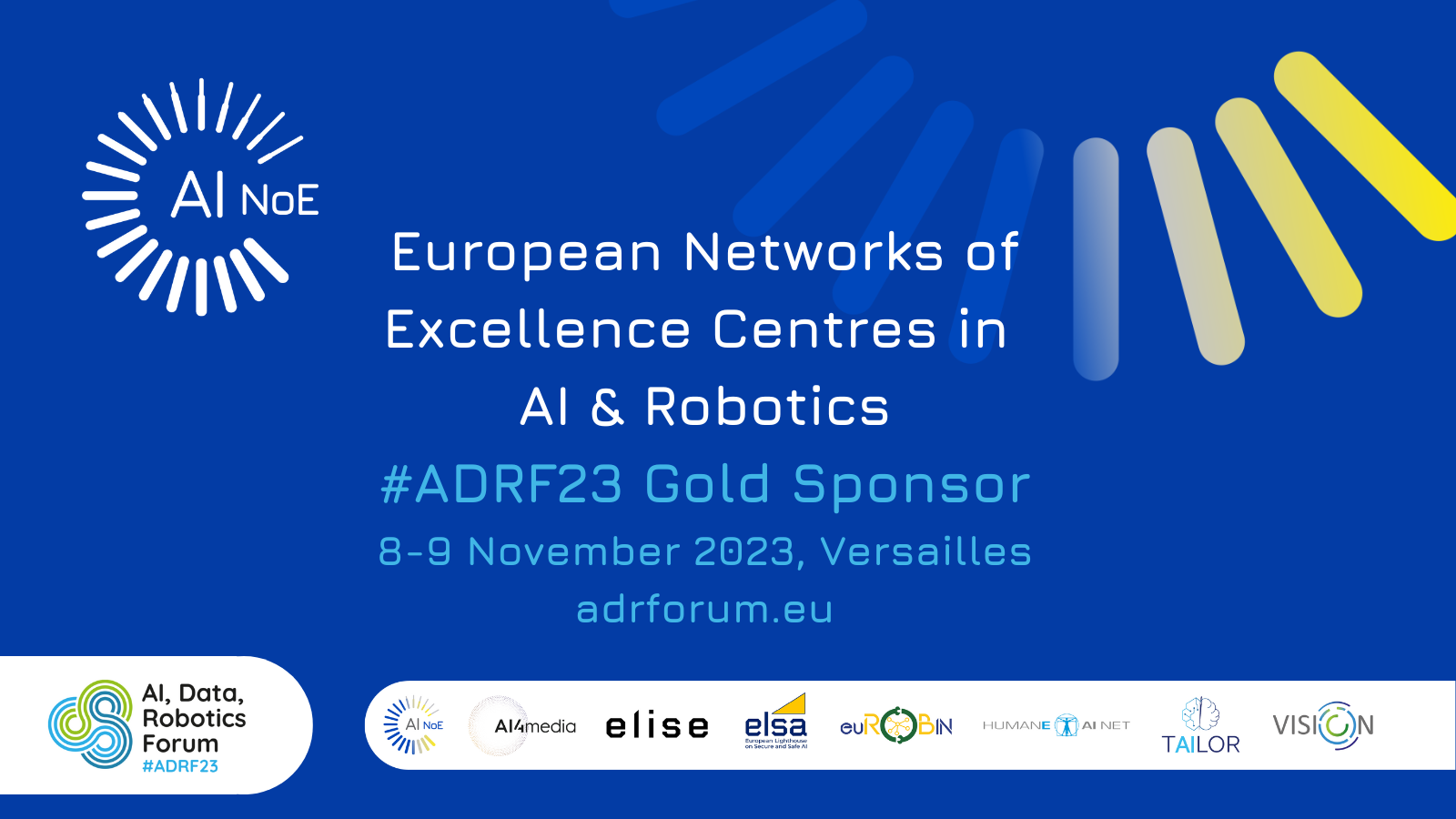 8-9 November 2023, Inria HQ, Versailles
The much-anticipated AI, Data, Robotics Forum 2023 (ADRF23) is just around the corner, and it promises to provide a holistic perspective on the realm of AI Networks of Excellence. This remarkable event is scheduled to kick off on November 8th in Versailles, this event will bring together some of the brightest minds and most influential players in the field of AI and robotics.
ELIAS will also be presented together with  standing alongside other prestigious European Networks of Excellence in AI & Robotics!
The European Networks of Excellence Centres in AI and Robotics will have their first joint booth – search for an unmistakable blue-coloured design in the "RENOIR" exhibition area at the ADR Forum. 
This remarkable collaboration has been made possible thanks to the VISION project, which is generously facilitating and sponsoring a joint presentation. For the first time, AI Networks of Excellence will unite under a common visual identity for AI NoE, resulting in a dedicated booth at ADRF23, as the Gold Partner of the ADRF 2023.
ADRF23, known as the "AI, Data, Robotics Forum 2023," is designed to shed light on the advancements in Generative AI for European society and industry. It serves as the perfect stage for the "AI NoE" Community to make its mark while attracting key stakeholders from the Adra – AI-Data-Robotics-Association ecosystem including European Commission representatives.
Join us on 8 and 9 November in the Inria Headquarters in Versailles and seize the opportunity to connect with members of our community, especially – but not only – during the breaks:
8 November: 11:25-11:50, 13:30-14:15, 15:45-16:00
9 November: 10:15-10:45, 13:00-13:30, 15:00-15:30
Do not miss the chance to be part of this extraordinary convergence of AI excellence at ADRF23, where innovation, collaboration, and the future of trustworthy AI take center stage